Stabilize Your Stall
Insures a permanent level stall floor
Eliminates Equine "Digging" Issues
Eliminates filling, leveling, and tamping down dirt floors as opposed to rubber mats or dirt surfaces.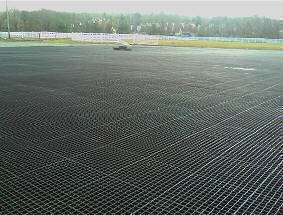 Stabilize any Flooring Surface!
Purchase price and installation costs may be capitalized and depreciated instead of expensed.
Maintenance free / one time installation
Stabilization Grid is guaranteed not to shift or uproot.
Available in 24 x 24-inch squares that are 1-inch thick.